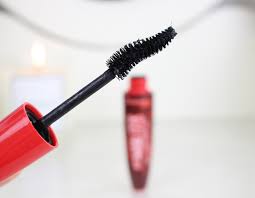 Scandalous Eyklashes thanks to Rimmel
---
Rimmel keeps indulging its customers with new products. This time t has release an innovative mascara. 'The Scandal Eyes Rockin'Curves' as the name suggests is perfect if you would like to curl and extend your eyelashes. Mascaras produced by Rimmel have not been very popular until 'The Scandal Eyes Rockin'Curves' hit the market.
Let's start from packaging. It comes in a nice, red tube that looks and feels like a snail skin. It has very surprising brush in a shape of a 'zigzag' or a broken heart as the Rimmel describes it. The unique shape is supposed to give you amplified lift and volume. The smaller end of the wand helps to grab smaller lashes and it helps to coat it with mascara better. This product will not clump, flake or wear off early on in the day. The common problem with thickening mascaras is that they often clump. This product is different. Even after reapplying it leaves you lashes long,yet separate.
The formula of the Scandal Eyes Rockin'Curves mascara is rich and creamy that glides smoothly and evenly. Due to the odd shape of the wand, it make take us a few times until we learn how to perfectly coat our lashes. After first application, lashes seem much longer but not necesairly thicker. It does not make them appear fuller either. Another downside is that after few hours of wearing the mascara it gives the feeling of heaviness.
Unfortunately, it seems that' The Scandal Eyes Rockin'Curves' does not fully stand to its name. It lengthens them but there is no WOW effect when it comes to thickening or curling them.
You may not the great curly lashes but it is still worth getting it. The product is affordable for everyone, as it costs around $8 in most of drugstores.