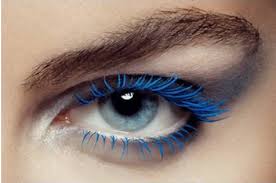 Black or blue eyelashes? Which to choose this summer?
---
Long, black eyelashes are the standard in everyday make up. During cold months, we tend to wear classic make up, but as soon as spring stands in door we like wearing saturated colours. What is the look of the summer then?
Cobalt Blue eyelashes? Why not!
One of the cosmetic companies that offers colourful Mascara is Bourjois. What is great about Volume Glamour Max Holidays is that it not only emphasize our gaze with the colour but also it will give it an extra volume and thickness. It will not curl your eyelashes that much but it make it extra-long. It comes in four bold shades, Electric Blue, Green Lagoon, Purple Mania and the ever-popular Ultra Black. The application is very easy; the brush glides the mascara on nicely. It does not leave any clumps, nor makes it sticky or rock-hard by that the end of the day It can be compared to the fake lashes effect.
As it meant to be used during summer, it has a special waterproof formula that allows the make-up stay intact even when you spend half of your day in swimming pool.
Is choosing the colourful mascara is a good idea? It may be a perfect solution for summer time. When we are on vacations, out of the office, no dress code compulsory, we want to have fun. We feel energised and happy and we often want to express it it the way we look. It is good when our make-up is colourful. Black mascara may be boring and may make us look tired. A bit of tint will bring some joy to our face.
Will more cosmetic companies follow Bourjois and promote Holiday Makeover Look? It is worth trying the holiday look as soon as the summer lasts.