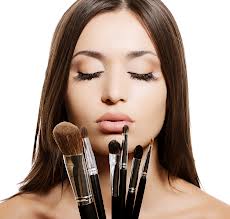 Shining strasses on your face by ' The Make Up Forever'
---
For everyday look, we tend to use neutral, make up and a tidy hairdo. There are situations, however, where we would like to stand out from the crowd and shine. New Year's Eve or a Christmas Party are one of a few occasions when we love to be in the centre of attention. We can achieve it, by more dramatic, evening make up. If that is not enough, we can intensify our look using special sparkling glitters or strasses.
Since recently, those products can easily be found on the super drug shelves. 'The Make Up Forever' proposes a complete new, colourful and bold 'stickers' that can be applied on a face or a body. We the help of special adhesive strasses and our imagination, we can create a unique an an amazing effect.
The application of glitters and strasses is pretty easy. All you need is a pair of tweezers and and a special adhesive that usually comes with product. Put a tiny bit of a glue on the back of the glitter and stick it to your face or arms. It is a great way to add sparkle to your look and it ought to be applied on your finished make up. It is very important that you do not go too close to your eyes. The glue can get irritate that sensitive eye area you may spend the evening in an emergency room instead.
To remove glitters, put a little bit of a baby oil or a cream and after a few seconds rub them off the face. You can get rid of the remaining glue with your regular make up cleanser. Those products are available in many drugstores all over country and they do not cost a lot. If you have a problem finding something that will suit you, look online for a huge choice of sizes, colours, and shapes.
If you want to go wild and add some shining elements to your make up, ' The Make Up Forever' is the best choice. You will find out that getting an amazing, sparkling finish has never been easier.