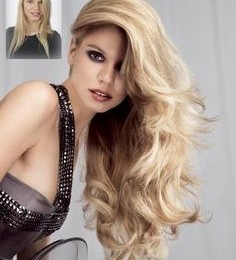 How to extend your hair?
---
Many women dream of a long, shiny, healthy looking hair. It not only look amazing but also it gives free rein to your imagination. Another woman's peer sneer is another reason why we love having long lock.
Growing hair takes a few years so the beauty industry has come up with quicker ways to extend your hair.
Usually only one visit in your hairdresser it is all that it takes.
The most popular way to extend your hair are 'The Clip-in' extensions. This is a great alternative to those who are on the budget or simply do not want to spend a fortune on having their hair professionally glued or sewed in. Additionally, you can do it yourself at home or with a help of a friend.
The individual section of the fake hair needs to be adjusted to the back of your hair with the special clip. It is important to know that this way of extending hair is only temporary. You can wear it for your prom or a wedding reception but at night, it needs to be taken off. The colour of the extensions ought to be as close to your darkest hair colour as possible. The shade does not have to be perfectly matched, as it will be blended in with the natural colour of your hair. You need to remember not to pull your hair and be careful when doing physical activities as it is easy to pull it out.
Using laser in hair extension has become popular by many celebrities and singers. It is so discrete that it becomes almost impossible to recognize if somebody wears extensions.
Technique involves bonding individual hair strands with a wax keratin bond. It is very comfortable and it causes little strain on your natural hair. It needs to be done only by a professional hairdresser in a certified beauty salon.
Laser hair extensions are durable, lasting up to four months. You do not feel that you have your hair extended. You can shower and exercise as you always do.
Each of the method gives great results. We should realize that any extensions are damaging to our natural hair. Growing your own hair will make you proud and it will give you a lot of satisfaction.