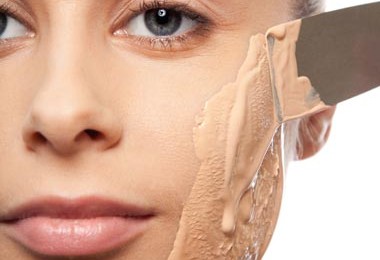 Max Factor color Adapt- Your second skin foundation
---
How many times did you buy the perfect foundation and then you put it in the bin? You did check in a shop. Had it tested, matched and it truly looked great. Then you went home, tried it again, and were disappointed with the result. Was the light in a drugstore fake, different?
Unfortunately, this is a common problem we ladies have. The Max Factor has created the solution to that. Colour Adapt foundation is the answer.
There are a few shades of this magic foundation. Although it is supposed to match our skin tone perfectly, first we have to choose the shade that is closest to our complexion tone.
The product comes in a plastic bottle with a pump. When you pump a tiny bit of the product, you may discover that it has a nice mousse structure, but when you rub it on the face it changes to a liquid form.
To apply it is recommended to use the foundation brush, beauty blender or just your fingers. It blends smoothly and it leaves you with matt skin.
The Max Factor says the foundation gives a nice, silky, matt finish, which makes it perfect choice for oily skin. It works very well at the beginning but it does not last long. If you tend to have problems with your skin, after just few minutes it will make your skin shine.Additionally, to make the foundation stay on your face for 24 hrs. you need to apply a premier beforehand and the setting powder on top of it.
Does it really work? It is famous for adapting to any skin tone you may have. Even if you have been on holiday it match your tan or if you are not feeling well and you are quite pale it can adjust and it will still look great.
The Color Adapt can be your second skin as it truly adapt to your complexion. The price is quite reasonable as well. It will be a great choice if we have a spotless skin. Sad to say, but it will not hide our pimples nor wrinkles. It definitely don't have a good coverage. However, if you want to even you skin color it is worth getting.