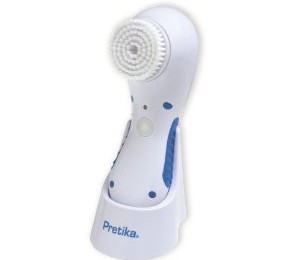 Rubber face Brush by Avon
---
Cosmetic company are in a constant race to invent a beauty product or a tool that would be loved by each and every woman on the planet Earth. Since recently, nobody expected that we would brush our hair with 'The Tangle Teezer' or use the 'Beauty Blender' to apply our foundation. Now, the market was hit by the Rubber Facebrushed.
Necessity is the mother of invention. This time was the same. We were all struggling to remove traces of the make up. Numerous face cleaners were great but it seems that they did not scour the deeper layers of the skin enough. Everybody knows what happens when bacteria grows and spreads on our face. Thanks to the special brush the everyday make up removing routine has become simple and effective.
Why the proper cleansing is number one in skin care? If the skin is not completely clean and ready to absorb product there is no need to spend money on expensive serums, or night creams. It will just sit on the top of the dead skin cells, grime, and dirt that was picked up throughout the day.
Rubber face brushes are proved to clean skin very deeply and accurately. They do not scratch and do not irritate face skin. Those contraptions have usually rounded tips so they can be used for the sensitive eye area as well. Using the brush is a great way to stimulate the skin and increase the blood flow and circulation, which makes it a perfect tool for those with dark circles under eyes. Additionally, they are very hygienic and easy to clean.
A few cosmetic companies have already released that kind of product. One of them is L'Oreal that offers the brush and a make up remover for under $10. It may be quite difficult to get it in store so the best place to find it is online. Another popular company, Avon sells this small contraption for just $2. As you can see, there is not a huge investment needed and what you can gain is a fresh, flawless looking skin.