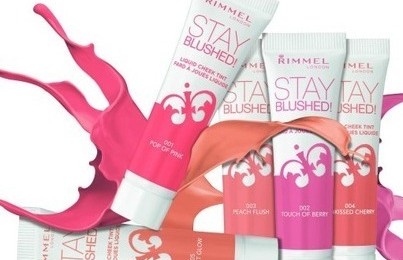 'Stay Blushed' with Rimmel
---
Each season, Rimmel likes suprising us with its great products. This time it decided to release a new blush that will add a warm glow to your skin, called ' Stay Blushed'. It has become so popular that you can find it in pretty much any drug store.
The package is in a form of a tube that needs to be squeezed to get the product out. It comes in two s romantic and soft colours: Touch of Berry and Peach Flush. Many of you may be disappointed with the limited choice of shades, however, these are so universal, that would suit almost any complexion. Shades and not shimmery like many cream blush products tend to be.
The product has a soft and gorgeous texture which makes it easy to apply for the fitted hand. If you just started your make up journey, you should be prepared that it may take you a few attempts to learn how to put it on evenly. Using your standard blush brush to put it on is not the best idea. It may leave smudges and marks on your skin. To apply it, use your fingertips or a beauty blender and gently stipple it on the apple of your cheeks. The great feature of this product is that it is buildable in terms of how bold you want to look. If you love subtle tone on your cheeks just put a tiny bit of product on. To intensify the result,you can put more blusher on, yet still look fresh and natural.
The smell of the blusher is absolubely divine, and blends into the skin well with no harsh lines. Rimmel states that it is a long lasting product, which may seems impossible in regards to cram blushes. 'The Stay Blushed'is proved to truly stay on for 14 hrs. You can use in the morning and be sure that it will stay on for the whole day.
This is an excellent product for everyday use. Shades are so subtle that you can easily use it even during winter when your skin is much lighter.
If you are still on the hunt for a creamy blush, you should give 'The Stay Blushed' a go. It seems like the perfect product at a very reasonable price.