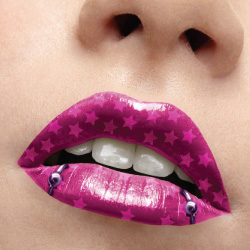 Tattoo on your lips
---
Are you bored with red, pink, or nude lips. Are you no shrinking violet and would like to try something new in your evening make-up? Why don't you have a 'tattoo' done? It is not as scary as it sounds. The Lip Tattoo stickers have become hugely popular over the last few months. Choose the right patterns, stick it to your lips and you are ready to rock!
It is almost impossible to find them in regular drugstores. The only place you can get them from in online. There are in different patterns, finishes available. Are you going on a Halloween Party? No problem. You can order the spider pattern tattoo. You can choose from tiny stars, angry birds, flags or polka dot pattern. Everybody is bound to find something interesting on each occasion. The application is very simple. First, you need to make sure that your lips are clean and dry. Take the tattoo and measure it against your own lips. Then take a pair of scissors and cut it so the sticker matches your lips perfectly. Next, apply it on your lips and wet it with the damp cotton ball until the paper slides off easily. Remember to smooth your tattoo with the wet cotton bud. You can eat and drink within 5 minutes from application. It is important to know that on the top of the tattoo you can wear oil-free lipstick or lip-gloss. It is a perfect solution for a bold, party look, as the tattoo will stay in place for another 4-8hrs. To remove your vivid make-up, use a baby oil or a make-up remover.
Wearing tattoo stickers too often may dry your sensitive lip skin. Make sure you moisturize it with a lip balm and keep it hydrated.
The lip tattoo is a great product that will make you stand out from the crowd. In order not to look chaotic, avoid a strong eye makeup when wearing the lip sticker.